7 Time Management Tools to Supercharge Your Productivity

A post from our Time Management blog
Written by Ashley Andrews
Whatever you want to get done – be it completing a project, or performing better at work so you can win that promotion – managing your time well is essential.
Time management is at the heart of productivity. You need to be on top of your schedule, getting important tasks done on time, every time. And you need to work smart, so you have enough time left over to rest and enjoy life. Otherwise, you probably won't be very productive at work.
Better time management starts with you. Only if you're truly committed will you improve.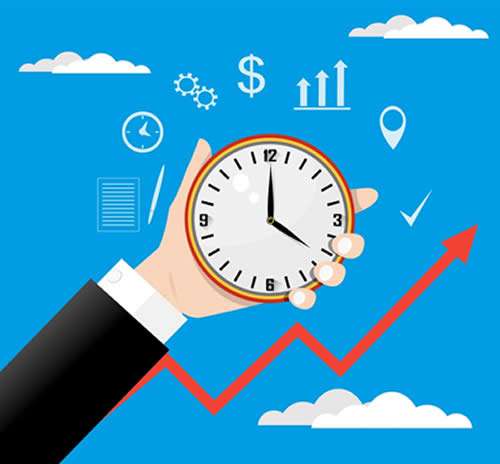 Thankfully, once you've made that commitment to being more focused and organized, there are lots of great time management tools to help you.
Here are 7 of the best ones, each of which is designed to supercharge your productivity. There's no time like the present – let's get started!
1. The old-fashioned journal
Having a sense of urgency – the need to work fast, so you can get everything done – is a great way to be more productive. And a great way to increase your sense of urgency is to work to written goals.
Writing down your goals and dreams on paper, whether for the coming week or the next 10 years, is a great way to bring them out into the real world. And setting deadlines for your goals increases urgency. A paper journal is a great place to do both.
2. Make digital to-do lists
A handwritten journal is ideal when you have time to sit down and think about your future. But if you work at a computer, or have a smartphone, then digital alternatives are more practical – firstly because you already have your device with you, and secondly because they have lots of nifty features.
Here are some of the best to-do apps:
Microsoft Outlook – integrated with many people's favourite email client, your to-dos are probably right where you want them with Outlook.
iCloud Reminders – If you use a Mac and an iPhone, this very simple list app will make sure you can always read and check off your daily tasks.
Google Keep – Presents your to-do lists like post-it notes. It also lets you categorise them and set up reminders. Very quick to get started with if you already have a Google account.
Todoist – This app sends you reminders about the goals you've set for yourself, wherever you are. Ideal if your biggest time management obstacle is remembering everything you need to do.
Any.do – As well as to-do lists, Any.do offers a well-designed calendar and an assistant that helps you focus on the important stuff.
Wunderlist – The nice thing about this to-do app is how it lets you share lists with colleagues, friends and family members. It's great for group projects.
3. Time yourself with Toggl
Once you have a sense of urgency and a list of stuff to do, you need to make sure you actually work as fast as you intend.
Toggl
is a simple app to track your work hours and see how you actually spend your time. You can set timelines and have Toggl help you stick to them, and sync everything across your computer and other devices.
You may consider this detailed
Toggl review
for more details on how the app works.
4. Organize bigger projects
To-do lists are all very well, but some projects require more complex organization. If you really want to get the most from your time, and increase your productivity, you might need a beefier project management tools. Such as…
Basecamp – One of the most popular PM apps offers to-do lists, sync'd apps, document writing, file attachments, scheduling and collaboration. It's free for one project with up to 5 users.
Trello – If you like the idea of organising your work into different categorised card files, the very popular Trello is ideal. It's also free.
Asana – Asana takes you "from chaos to clarity" with tasks, projects, conversations and dashboards. Its basic features are free for up to 15 users.
With your work and goals plumbed into one of these popular apps, you're well on your way to better time management and productivity.
5. Make use of modern calendars
Whether you prefer Google, Microsoft Outlook or Apple iCloud, you probably have access to a modern, cloud-based calendar. And they're truly fantastic things for improving your time management.
Some of the great things about these calendars include:
Being able to read and add new events from your phone, so you're always up to date.
Being able to set alerts, via email, text message or phone alarm. You never need to forget a meeting, event, task deadline, or anything else, ever again.
Being able to share calendars with friends and colleagues. It's ideal for planning team schedules or your home life.
If you use just one of the tips in this article, make it this one. It will improve your time management and productivity ten-fold.
6. Stay rested with micro breaks
You now have lots of choices for apps to help you work smarter. But don't forget – rest is really important too. There's no point having great time management if you're too tired to work to your own plans! Then again, you can't afford to relax too much if you want to maximise your productivity.
A great compromise is taking micro breaks. Micro breaks are short breaks of 1-2 minutes. Taken at regular intervals of 40 minutes (or whatever works for you), they help refresh your mind and get your body moving – without taking too much of your work time. Good ways to spend micro breaks include a quick walk outside, getting a drink of water, hula hooping, or some other light exercise.
Naturally, there are apps to help you remember to take your micro breaks  – examples being Workrave and Big Stretch Reminder.
7. Beat internet distractions
However well you set up your time management systems, a good distraction can still ruin your productivity in a heartbeat.
Useful as it is, the Internet is a major productivity killer for people who work on computers or carry a smartphone. When one interesting article links to another, and another, you can sometimes find yourself having wasted hours of working time.
That's where the
Pocket
app comes in. Pocket adds a 'Save for later' button to the web browsers on all your devices. If you find yourself tempted to waste time reading something that has nothing to do with work, just click that button – and it will save an offline version you can read later, anywhere.
Once you're in the habit of saving fun web stuff for later, instead of letting it eat into work time, your productivity could really soar.

Ready to build better habits?
Better time management can really help when you need a productivity boost. But it takes long-term commitment to get into good habits.
Thankfully, modern apps have a way of keeping our attention through notifications and reminders. So, once you've set up some the apps above, you should find it easy to remember how important time management is. Don't forget though - the best way of getting out of bad habits and permanently improving your ability to manage your time is by taking a
time management course
.
With all of this combined, you are sure to stay on top of your life, work, and you're sure to remember all the items on your to-do list, too!
P.S. In case you're not sure about how good your own time management abilities are, we have a free, personalised test that you can take and finish in about 5 minutes, which can be found
here
.