What Your Body Language Says About You

A post from our Communication blog
Written by Ashley Andrews
The great American poet Ralph Waldo Emerson famously
said
, "What you do speaks so loud that I cannot hear what you say."
Which is another way to say that body language is much more important than words.
How can that be?
Well, here's another famous soundbite to explain: "human communication is only 7% verbal and 93% non-verbal."
This was the finding of
Professor Albert Mehrabian
, a pioneer of body language research of the 1950s. His work is still respected today.
Breaking the non-verbal part down further, 38% of communication is things like tone of voice, inflection and other sounds. And, according to Professor Mehrabian, the other 55% is... body language.
Yes, more than half of all human
communication
is done through body language!
If only more people were aware of this hidden truth of the human experience.
I don't know about you, but I've met too many people whose body language lets them down, or shows the true nature they're trying to conceal with words.
In many ways, this is helpful. Body language can reveal a person's true feelings, when they are too shy or hurt to tell us in words. It can expose the liars and deceivers we meet. As the philosopher
Ludwig Wittgenstein
put it, "the human body is the best picture of the human soul."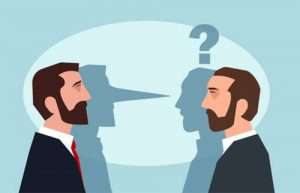 But body language can also hinder you, if you aren't in control of it. For example, what if...
You're trying to get ahead in life, but you lack self-confidence?
You need to get on well with a client, colleague or relative in difficult circumstances?
You need to give a great speech, pitch or presentation, even though you're really nervous?
In all these and many more scenarios, your body language can say very negative things about you – if left unchecked.
A recent experience springs to mind.
I went for a haircut one afternoon at a new place just around the corner from my office. It had been open a couple of months or so. My office is in a busy area, with lots of workplaces and – I presume – lots of people who need a haircut from time to time. But I could see as I approached that this new place was virtually empty. And I quickly discovered why.
When I entered and went to the counter, I was received by a man I think was the manager. However, he didn't welcome me with a smile. He didn't even speak. He just scowled grumpily, as if I was encroaching on his personal space. His shoulders were slumped, as though he didn't want to be there, or to have to deal with anyone.
I said I wanted a haircut. "Yeah, that one over there," he said, gesturing towards one of the empty seats.
Thankfully that was my last interaction with him. The person who did my hair was much friendlier, and they did a good job too. But I'll always remember the manager's unfriendly welcome – all communicated through body language – and I'm sure it's one reason the business hasn't taken off.
A very important question remains:
How can you become more aware of your body language and get it right?
How could the unfriendly manager I just described improve their body language – and most likely as a result, their takings?
Here are 7 common negative body language habits, how other people interpret them, and how you can fix them.
We have online courses with full 12-months' access.
RRP from $109 – limited time offer just $12
1. Standing with your feet pointing inwards
Your stance is a key part of your body language – it communicates your level of confidence and openness. Standing with your feet together, or pointing inwards, suggests you're closed-off and defensive.
If you want to appear friendlier and more open, try widening your stance and point your feet outwards a little.
2. Holding the top of one arm
Holding on to a part of your own body is a form of self-comfort. Holding the top of arm with your other hand is a common way to self-soothe when you're uncomfortable or annoyed.
Try relaxing your arms or putting your hands together if you want to appear happier and more composed.
3. Touching your cuff, sleeve or watch
Tapping your wrist area is another way people self-soothe. It communicates nervousness and agitation.
Again, try resting your hands by your sides or clasping them together. Even putting your hands in your pockets is a better option than nervously fidgeting.
4. Sitting with one leg crossed over the other, holding the top leg
You might find yourself sitting this way in situations where you want to be in control – but it can be interpreted by other people as aggressive and even a little arrogant.
Try uncrossing your legs and placing your palms flat on your thighs. This still projects confidence, but is much more open and friendly.
5. Sitting with your face resting in your palm
It's the classic bored posture – especially when your facial expression is disinterested too!
Two small adjustments can fix it. Firstly, lift your head a little and brighten your expression. And secondly, rest your chin on the back of your hand, instead of your knuckles. Suddenly you appear much more engaged!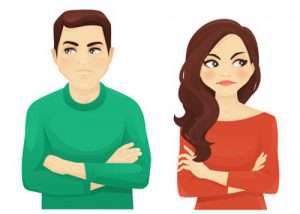 6. Sitting with arms crossed
Another classic body language mistake. Many of us do it without thinking, but it makes us appear closed off and defensive.
If you want to appear more welcoming and confident, simply unfold your arms.
7. Holding the back of your head or neck, or rubbing your eyes
This habit indicates nervousness, uncertainty, or that you aren't being completely honest about something.
Avoid this stance when you need to make a good impression – keep your arms relaxed at your sides instead.
Changing your body language can change your self-image, too
How worthwhile is it to make these changes?
In an influential recent
TED talk
, social psychologist Amy Cuddy says that using confident and positive body language doesn't just change how other people see us – it can change how we see ourselves, too.
Start working on your body language now
So, by being more aware of your body language and actively working in it – getting into good habits by practicing confident stances and poses – you can boost your actual confidence and potentially be more successful.
I hope these tips have helped you – and I hope the manager of my local hairdresser reads this article. With these pointers, he might scare away fewer customers!
P.S. In case you're unsure about how good your own communication skills are, we have a free, personalised test that you can take in 4-5 minutes, and it can be found
here
.
We have online courses with full 12-months' access.
RRP from $109 – limited time offer just $12