Our Course Of The Month – Microsoft Project A post from our Microsoft Software blog
Start At The Level That's Right For You We've seen a huge increase in the number of people wanting to learn Microsoft Project – and it's easy to see why. Whether you want to learn the 2003, 2007 or 2010 version of the software we'll have a course especially designed to meet your needs. Regardless of the level you want to start at, you'll be able to learn at a pace that's right for you – as our Microsoft Project courses are split in to two key stages: Introductory and Advanced. Although more experienced users might be tempted to skip to the harder level, course material is strongly interwoven, which means you'll need to attend both one day workshops to improve your competence with Microsoft Project.

Each course will look closely at the vital features of Project, ensuring learners are exposed to such important areas as Gantt Charts, tracking and other areas like schedules.

Why Is Microsoft Project 2010 So Popular? Of all the Project courses we run, this is the most popular. We think this is due to the 2010 version including the ribbon interface – a feature originally introduced in the 2007 and 2010 incarnations of Microsoft Excel and Word. This course in particular is therefore ideal for anyone who needs to learn this important niche skill to perform their day-to-day responsibilities as a Project Manager.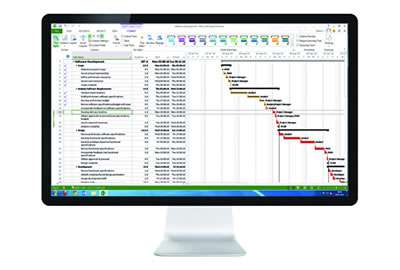 Do You Have Experience Of Project Management?
If you are already an experienced Project Manager, or have prior experience of working as one, you'll probably only need to learn how to use Microsoft Project. But not everyone attending these courses will be working actively in a relevant role. It could be you're being promoted in to a position with project management responsibilities, or want to learn these skills to improve your chances of winning such a role in the future. Either way, you may lack some of the non-technical skills required to be a successful Project Manager – meaning it'll be useful for you to attend a separate course that'll help you learn these important skill sets.
Our project management courses are suitable for everyone, regardless of their level of knowledge. Whether you want to learn about delegating tasks, or how to deal with difficult deadlines, we'll be able to help you achieve your objectives (and can even tailor certain aspects of the course to meet your specific requirements).
What Will I Achieve At The End Of The Course?
As mentioned, our Microsoft Project courses are suitable for everyone – regardless of whether they have prior experience of using this software package. The first level is the Introduction, where you will learn how to input most of your project data. In the advanced level, you then start to look at how to get information out of the software, things like charts, reports etc.
Whether your priority is to develop your understanding of the critical path features, refresh your knowledge of Gantt charts, or improve your skills at tracking, we'll furnish you with the skill sets needed to perform your job effectively.
Contact Us
To discuss one of our
Microsoft Project
or
Project Management courses
, please click
here
 to talk to a member of our team.